Anthony Dinkley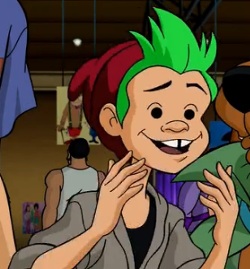 Character Info

Edit
Anthony Dinkley is the only younger brother of Velma and Madelyn Dinkley. Most importantly, he is also the only son of Mr. Dinkley and Mrs. Dinkley.
Physical appearance
Edit
Anthony looks nothing like the rest of his family. He has bleached green hair, wears a reddish-brown hat, wears a grey jacket and has a black t-shirt.
Personality
Edit
Anthony is cool but is smarter than the rest of his family and sometimes even Velma. This tends to annoy his eldest sister Velma when she is trying to figure something out and Anthony says the answer.
Anthony wears contact lenses.
He naturally has auburn hair.
Appearances
Edit
Ad blocker interference detected!
Wikia is a free-to-use site that makes money from advertising. We have a modified experience for viewers using ad blockers

Wikia is not accessible if you've made further modifications. Remove the custom ad blocker rule(s) and the page will load as expected.