Come to mummy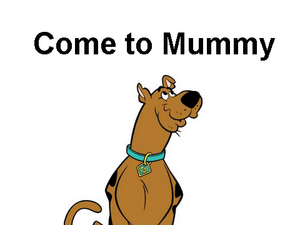 Episode Info

Edit
Come to Mummy is ,the Second episode in ,the first season of Scooby-Doo! Mysterious Mysteries.
The gang visits, the Field Museum when a Mummy shows up, and ruins every thing!
The gang got to the Field Museum after a long drive. Soon they see a fat, tall man, and 2 other people. They say that they are "Mummy Inc", and the leader Roger tells the gang to get out.The other 2 (Narmen And Jane Lawrence) say, you can stay, but at your own risk! The gang looks around for 5 minutes of the episode and they find a clue Narmen's Badge for mummy Inc. The gang sets a trap, but it gets Shaggy, and Scooby. later Fred Said lets split up gang. Scooby and Shaggy soon bump in to the Mummy, The 1st chase starts, it takes 1 minute. Later the gang gets back together, and sees their 2nd clue, A news paper with the article "Cleopatra's Tomb Found!" circled.
Later the gang runs Mummy Inc, Roger was fighting with Narmen , Jane Had no part of it. Jane told the gang that Narmen was stealing Mummy's, A minute later the police came and took Narmen Away. Soon the Mummy shows up and warns every one to stay away! The gang looks for the mummy and finds him! Fred Grabs him and nails him to the wall.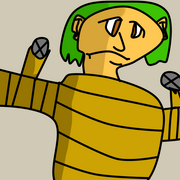 The mask was pulled of. It was Jane Lawrence! She wanted to scare people off to Steal the real Mummy.
Cast and Characters
Edit
Actor
Character
Frank Welker

Fred Jones

Scooby-Doo

Matthew Lillard
Shaggy Rogers
Grey Delisle

Daphne Blake

Mindy Cohn
Velma Dinkley
(Voice Actor)
Narmen
(Voice Actor)
Jane Lawrence
Dee Bradley Baker
Roger

Mummy
| | |
| --- | --- |
| Monster | Culprit |
| Mummy | Jane Lawrence |
Roger
Narmen
Jane Lawrence
| | |
| --- | --- |
| Culprit | Reason/Motive |
| Jane Lawrence | To steal the real Mummy. |
Locations
Edit
| | |
| --- | --- |
| Location | Sub Locations |
| Chicago | Field Museum |
Notes/Trivia
Edit
The Field Museum is a real place.
This episode is Only 14 minutes.
Animation mistakes
Edit
Roger: Over There
Home media
Edit
Ad blocker interference detected!
Wikia is a free-to-use site that makes money from advertising. We have a modified experience for viewers using ad blockers

Wikia is not accessible if you've made further modifications. Remove the custom ad blocker rule(s) and the page will load as expected.