Crash Landing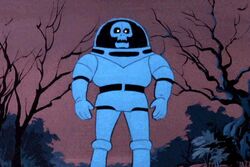 Episode Info

Edit

Crash Landing is the second episode of Scooby-Doo! Menacing Monsters!.
A smoking spacecraft has been discovered in a campsite. So when the gang arrives at the campsite they discover that this spacecraft belongs to the one and only Space Kook!
The gang is driving along the road on a dark and stormy night. The sky is black and shining with stars. The full moon shines light onto the van.
"Why are we camping tonight of all nights?" asks Shaggy.
"Well, a spacecraft crashed in the campsite, we should investigate," says Velma.
"Ro, we don't reed ro investigate!" cries Scooby.
"Why is that?" asks Fred.
"Because rou reed ro rave retter skills!" says Scooby.
"What do you mean?" asks Daphne.
"Like, he means me and him have better investigating skills, so we don't need to go, you do to improve your skills," says Shaggy.
"Oh boy," says Velma. She rolls her eyes.
Suddenly, lightning strikes a tire.
"Get the spare Shag," says Fred. Shaggy hops out of the van and puts the flat tire in the back of the van. He puts the spare tire on and then hops back in.
The van keeps going. Suddenly, lightning bolts flatten all four tires!
Soon, the gang is in the campsite.
They see a young woman setting up her tent.
"Hi there, I'm Grey!" says the woman.
Suddenly, the ground shakes as Grey finishes setting up her tent. She walks inside it. "I'm going to bed. You guys better do the same before the Space Kook blows this entire place up."
Soon, the gang is sleeping. Scooby and Shaggy are awoken by a large explosion noise.
"The Space Kook!" exclaims Shaggy.
In progress...
Writer's Note
Edit
I'm Decca03, the writer, thanks for reading and don't forget to comment!
Cast and characters
Edit
Locations
Edit
Notes/trivia
Edit
Home Media
Edit
Ad blocker interference detected!
Wikia is a free-to-use site that makes money from advertising. We have a modified experience for viewers using ad blockers

Wikia is not accessible if you've made further modifications. Remove the custom ad blocker rule(s) and the page will load as expected.