Crazy Oktoberfest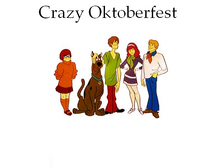 Episode Info

Edit
Crazy Oktoberfest is the 11th episode of season 4 of Scooby-Doo! Original Mysteries.
The gang find themselves in Germany just in time for Oktoberfest. But a spooky ghost is haunting the fair and mesmerizing everyone.
The gang go to a hypnotic Oktoberfest.
The gang find themselves in Germany, Bavaria to be more exact, with no idea how they got there;they just got out of the Hippieville forest and into Bavaria. It is very weird, but now that it is Oktoberfest, they decide to party and eat a little and enjoy themselves. So they get out of the Mystery Machine and into the pedestrian area.
They go around, and there are a lot of people there, most enjoying themselves, but a few are just walking around blankly and buying everything in sight. The gang meet a woman called Ms. Saftler. She says that the reason for those people is because they have been victims of the Oktoberfest Ghost, who hypnotizes people into buying everything. The gang thank her and then the ghost comes up and almost hypnotizes them but luckily they are not.
The gang then meet a man called Harold Smith. He is American and director of the Oktoberfest. He is actually happy about the ghost, saying it is improving profits. The gang find an empty roll of tickets on the ground and when Shaggy and Scooby go to check out something, the rest of the gang are hypnotized.
Shaggy and Scooby are warned by another guy called Tonnel and then discover the rest of the gang. Soon the rest of the gang turn against them and Shaggy and Scooby reflect mirrors at them, and they snap out of it. They use this against the ghost too and he is caught.
The ghost was actually Harold. He wanted to boost profit. The episode ends with the gang going off again.
Cast and Characters
Edit
Actor
Character
Frank Welker

Fred Jones

Scooby-Doo

Casey Kasem
Shaggy Rogers
Grey Delisle
Daphne Blake
Mindy Cohn
Velma Dinkley
(voice actor)
Ms. Saftler
(voice actor)

Harold Smith

Oktoberfest Ghost

(voice actor)
Tonnel
Ms. Saftler
Harold Smith
Tonnel
| Culprit | Reason/motive |
| --- | --- |
| Harold Smith | To have hypnotize everyone into buying a lot at the place |
Locations
Edit
Notes/trivia
Edit
Animation mistakes and/or technical glitches
Edit
Inconsistencies/continuity errors and/or goofs/oddities
Edit
Home media
Edit
Scooby-Doo! Original Mysteries Season 4
"Wait...um...dude, you want more?"
"Well, yes, I have money, let's go buy more."
-Shaggy and Fred
Chronology
Edit
Ad blocker interference detected!
Wikia is a free-to-use site that makes money from advertising. We have a modified experience for viewers using ad blockers

Wikia is not accessible if you've made further modifications. Remove the custom ad blocker rule(s) and the page will load as expected.