The Creepy Conductor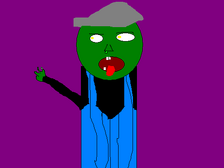 Character Info

Edit

The Creepy Conductor was the ghost of Conductor Bob, a railroad man who was killed.
Physical appearance
Edit
The Creepy Conductor has green skin and is wearing overalls and a train cap. He has lots of teeth missing.
Personality
Edit
He is very destructive and is rather disrespectful.
Powers and abilities
Edit
He can drive trains expertly, and is also shown to have a great talent of stealing when he stole a train car from the fair.
Scooby-Doo! Original Mysteries
Edit
Season one
Edit
He stole a train car from the fair, drove the train car in the night and kidnapped the tour guide when she was snooping. He destroyed diners in the night with his car. He always destroyed diners other than Mike's Diner. He was revealed to be Mike Geller. (Mystery Inc. Rides Again)
Appearances
Edit
"Ha! Ha! Ha! The Creepy Conductor is here!"