Cyclops of Crabville
Character Info

Edit
The Cyclops of Crabville is a cyclops.
Physical appearance
Edit
He is a large ugly green cyclops.
Scooby-Doo! Spooky Mysteries
Edit
Season one
Edit
He attacked the gang, kidnapped Daphne, and turned out to be Mr. Watch. Mr. Watch wasn't making enough money selling watches, so he wanted to scare everybody in town out of town, so he could steal money left behind by the people in town.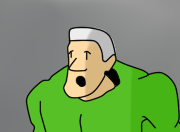 Ad blocker interference detected!
Wikia is a free-to-use site that makes money from advertising. We have a modified experience for viewers using ad blockers

Wikia is not accessible if you've made further modifications. Remove the custom ad blocker rule(s) and the page will load as expected.