Day of the Undead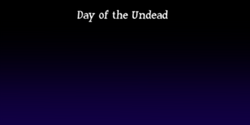 Episode Info

Edit
 Day of the Undead is the sixth episode of the first season of Scooby-Doo! Mysteries Forever!.
A zombie is after Scooby's brain!
The gang and Lee are somewhere. Scooby goes off to take a walk. Soon, he encounters a zombie. The zombie chases Scooby away. Now the episode has been 5 minutes. There is a 5 minute chase scene. Scooby keeps encountering the zombie for 8 minutes. At the end, Scooby runs away from the zombie.
Cast and characters
Edit
| Suspect | Motive/reason |
| --- | --- |
| None | None |
| Culprit | Motive/reason |
| --- | --- |
| ??? | ??? |
Locations
Edit
Notes/trivia
Edit
Animation mistakes and/or technical glitches
Edit
Inconsistencies/continuity errors and/or goofs/oddities
Edit
Ad blocker interference detected!
Wikia is a free-to-use site that makes money from advertising. We have a modified experience for viewers using ad blockers

Wikia is not accessible if you've made further modifications. Remove the custom ad blocker rule(s) and the page will load as expected.