Dribble Riddle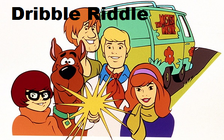 Episode Info

Edit

Dribble Riddle is the 5th episode of The Scooby-Doo! More Than Ghouls!.
Mr.Queen creates a new flavor of ice cream he calls it Dribble,but a Dribble Phantom attacks his factory. Who will solve this Dribble Riddle?
The gang gets a call from Mr.Queen he says another phantom is in his factory. When the gang gets there Mr.Queen greets them. He tells them that last night he created a new flavor of ice cream called Dribble, and then he tells them that a Dribble Phantom is haunting his factory. Soon a man and women came out, they are workers. Soon the gang meets a man named Bob Hunts he is also a worker.3 minutes after They meet a man named Mr.Lord the other ice cream factory owner.
The gang splits up. Shaggy and Scooby see the Dribble Phantom. The Dribble Phantom is ugly. The Dribble Phantom chases Shaggy and Scooby. Meanwhile Fred, Daphne, and Velma find a clue, it was a test tube. Very soon Shaggy, Scooby, and the Dribble Phantom crashed into the gang. Shaggy still thought it was Mr.Queen. The others thought it was Mr.Lord. They pulled off the mask.It was Mr.Queen!He wanted to shut down his factory without Mr.Lord taking it.
Cast and Characters
Edit
Frank Welker as Scooby-Doo and Fred Jones
Matthew Lillard as Shaggy Rogers
Grey DeLisle as Daphne Blake and Women Worker
Mindy Cohn as Velma Dinkley
John Stephenson as Mr.Queen and Dribble Phantom
Lennie Weinrib as Mr.Lord
James Arnold Taylor as Man Worker
Tom Kenny as Bob Hunts
Dribble Phantom
Mr.Lord
Man Worker
Women Worker
Mr.Queen (Only for Shaggy)
Mr.Queen as Dribble Phantom\Reason:To shut down his factory without Mr.Lord taking it.
Locations
Edit
Happy Humor Ice Cream Co.
Notes/trivia
Edit
This episode is the sequel to The Ghost of The Bad Humor Man.
Home media
Edit
Scooby-Doo! More Than Ghouls! The Complete Series
"I still think it's Mr.Queen with his real broken leg!"
Shaggy Rogers
Ad blocker interference detected!
Wikia is a free-to-use site that makes money from advertising. We have a modified experience for viewers using ad blockers

Wikia is not accessible if you've made further modifications. Remove the custom ad blocker rule(s) and the page will load as expected.