Escape From Chaos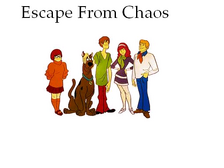 Episode Info

Edit
Escape From Chaos is the 3rd episode of season 2 of Scooby-Doo! Original Mysteries.
Coolsville is turning into a crazy town. Can Scooby and the rest of the gang figure out how to escape before they go crazy too?
The gang try to escape from Coolsville.
The Crazy Coolsvillians have captured the Mystery Machine. The gang defeat Crazy Coolsvillians by capturing them in traps. On the way, they meet Rango, the Doctor and Yvonne Badrens all at once. These are the only suspects because they are the only non-Crazy Coolsvillians. The gang must go to different shops while defeating Coolsvillians. Finally they find the Mystery Machine and Fred starts driving faster than the speed of light. The culprit is revealed to the viewer as Yvonne Badrens, who wanted the gang out of town.
Cast and Characters
Edit
Actor
Character
Frank Welker

Fred Jones

Scooby-Doo

Casey Kasem
Shaggy Rogers
Grey Delisle
Daphne Blake
Mindy Cohn
Velma Dinkley
(voice actor(s))
Crazy Coolsvillians
(voice actor)
The Doctor
(voice actor)
Rango
(voice actor)
Yvonne Badrens
The Doctor
Rango
Yvonne Badrens
| | |
| --- | --- |
| Culprit | Reason/motive |
| Yvonne Badrens | To drive Mystery Inc. out of Coolsville (which she did) |
Locations
Edit
Notes/trivia
Edit
Only the viewer knows who is responsible. All the gang do is escape.
The gang repeats the same motion over and over, which is why the synopsis is one paragraph.
Animation mistakes and/or technical glitches
Edit
Inconsistencies/continuity errors and/or goofs/oddities
Edit
The gang go into the butcher's twice. Why?
Home media
Edit
Scooby-Doo! Original Mysteries Season 2
"WE ARE CRAZY COOLSVILLIANS! YAYYYY!"-Crazy Coolsvillians
Ad blocker interference detected!
Wikia is a free-to-use site that makes money from advertising. We have a modified experience for viewers using ad blockers

Wikia is not accessible if you've made further modifications. Remove the custom ad blocker rule(s) and the page will load as expected.