Gary Rogers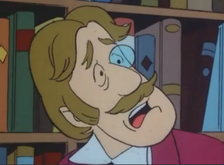 Character Info

Edit

Gary Rogers is Shaggy Rogers' uncle and the owner of Dr. Rogers' Amazing Mental Hospital. His hospital was haunted by Alien/Creepy Knight.
Physical appearance
Edit
He looks a lot like Uncle Shagworthy, only he dresses in doctor's coats.
Personality
Edit
He is nice and kind to the gang, especially Shaggy, his favorite nephew.
Scooby-Doo! Original Mysteries
Edit
Season one
Edit
He requested Shaggy come to the hospital for believing in a talking dog, and later enlisted the gang to help him catch the Alien/Creepy Knight. (Bad Feeling)
Appearances
Edit
Ad blocker interference detected!
Wikia is a free-to-use site that makes money from advertising. We have a modified experience for viewers using ad blockers

Wikia is not accessible if you've made further modifications. Remove the custom ad blocker rule(s) and the page will load as expected.