Googie Davidson
Scooby Doo! Mysterious Clues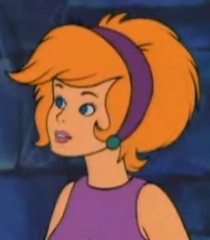 Character Info

Edit
Googie Davidson is Shaggy's girlfriend. She is a cheerleader on the Coolsville High Cheerleading squad.
Physical Appearance
Edit
Googie, in a way, resembles Daphne. She has short orange hair, and blue eyes. She also wears a purple singlet and a teal skirt. She also wears teal socks and purple heels. She also wears teal earrings and a purple headband.
Personality
Edit
Also like Daphne, she is style-conscious, and cares about fashion. She also cares about getting good grades and cheerleading. She loves mystery movies and horror movies and the colors teal and purple[similar to Daphne who likes purple and pink].
Ad blocker interference detected!
Wikia is a free-to-use site that makes money from advertising. We have a modified experience for viewers using ad blockers

Wikia is not accessible if you've made further modifications. Remove the custom ad blocker rule(s) and the page will load as expected.