It's Terror Time Again! is another incarnation of the long-running Hanna-Barbera Saturday morning cartoon Scooby-Doo. It was created by Kyle03.
About
The Mystery Inc. gang are now adults and ready for more action. They find a note from an anonymous person saying that he has a fortune for them if they find all the clues from the note to figure out who he is, but will Mystery Inc. try and find the anonymous person and the fortune, or is this the first time they'll give up?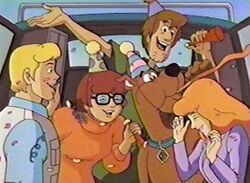 Cast
Recurring characters
Episode Guide
Season 1
| # | Title | Premise | Word Count | Writer |
| --- | --- | --- | --- | --- |
| 1 | The Anonymous Note | The gang find an anonymous note saying that he has a fortune for them and they need to find the clues to figure who he is until the fortune is theirs! The note leads the gang to solve a mystery about the evil werewolves! | 544 | Kyle03 |
| 2 | Dare-Devil | The first clue leads the gang to a beautiful garden in Australia as a devil has been haunting the place, but what will the next clue be? | TBA | Kyle03 |
| 3 | The Last Laugh! | The new clue leads the gang to a circus in Japan because an evil ghost clown, Zombozo, is haunting the big-top! | TBA | Kyle03 |
| 4 | It's Terror Time Again! | The clue leads the gang to a haunted house by the two faced cliffs. It is said that the house is being haunted by zombies. But, with the next clue, the gang figure out who the anonymous figure is! | TBA | Kyle03 |
Theme Song
Home media
Notes/trivia
The gang are now adults in the series! Shaggy is 23, Daphne and Fred are 22, Velma is 21 and Scooby is 15.
The cast from Scooby-Doo On Zombie Island! return for this series.
Ad blocker interference detected!
Wikia is a free-to-use site that makes money from advertising. We have a modified experience for viewers using ad blockers

Wikia is not accessible if you've made further modifications. Remove the custom ad blocker rule(s) and the page will load as expected.