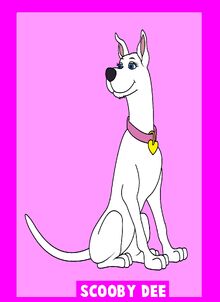 My name is John Kassis some people call me (JohnnyBoy) or (John or JohnnyKaBoy) I know I love Scooby Doo so much but when I was little kid I all ways love watching my favourite cartoon characters but only one favourite character the one I love so much which is Scooby Dee. Scooby Dee she is a beautiful and cute character and I know for me I love about Scooby Dee but in terms to the way I know or found an favourite actor used played role voice of her is Janet Waldo and I really did not know the actor but I know the voice of Scooby Dee and I really know Scooby's 2 episode appearances which is: Episode #1 1977 1st October (The Chiller Diller Movie Thiller) and Episode #2 2003 25th October it's the same month when Scooby Dee's first appearance back in 1977 and the second appearance episode she was on (Homeward Hound) and I found out how Scooby Dee she appeared the episode back in 1977? And she was a little bit different form 1977 made her debuted so that's how I discovered Scooby Dee's episodes and appearances and also I want to say I want to see more of Scooby Dee in the near future and let's see which episode she's is going to be on and when she is going to be a third appearance soon. And I just want to send a message to my famous actress Scooby Dee. And I know I have found her on Facebook and YouTube so maybe she knows I'm her just a big fan to send her a love and interest massage.
Dear Scooby Dee I know if you are hearing or reading this massage this is a love interest to say and I love your episodes Scooby Dee I know I have discovered your researches and your appearances and hope all the Scoobypedia will notice also including me will keep an eye in the near future and I wonder if you are so famous and gorges Scooby Dee and I love your iconic pink collar that matches my favourite colour type I know I love pink Scooby Dee because its a cute colour and you have a cute collar as well. So I hope this massage will be able to read this Scooby Dee and hope you enjoy this massage and all the fans out there including me and the behalf of Scoobypedia will know if you are coming back really soon Scooby Dee and I all way look at your beautiful eyes thinking hmm Scooby Dee you are so pretty girl and lovely. From Johnnykaboy1992 oxox.

My favorite pages
Edit
Scooby Dee's Photo Album
Edit
Ad blocker interference detected!
Wikia is a free-to-use site that makes money from advertising. We have a modified experience for viewers using ad blockers

Wikia is not accessible if you've made further modifications. Remove the custom ad blocker rule(s) and the page will load as expected.