This is about the Solve That Mystery Scooby Doo! incarnation of Madelyn.
Madelyn Dinkley
(Solve That Mystery Scooby Doo!)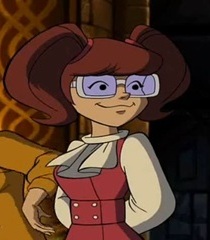 Character Info

Edit
Madelyn Dinkley is the sister of Velma Dinkley and owner of Scooby-Dum.
Physical Appearance
Edit
Madelyn has auburn hair with purple-colored lens glasses. She wears smart clothes as she is a NASA student.
Other Versions
Edit
Another incarnation of Madelyn (Madeline) appears in Scooby-Doo! Abracadabra Doo.
Appearances
Edit
Ad blocker interference detected!
Wikia is a free-to-use site that makes money from advertising. We have a modified experience for viewers using ad blockers

Wikia is not accessible if you've made further modifications. Remove the custom ad blocker rule(s) and the page will load as expected.