Manic Mantis Madness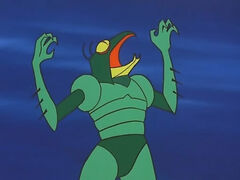 Episode Info

Edit

Manic Mantis Madness is the third episode of Scooby-Doo! Revenge of the Ghouls.
The entire screen is black, so nobody and nothing can be seen.
"Did you get the package?" asks a deep voice.
"I've got it right here, but what is it anyway?" asks the other voice.
"Oh, you'll see that, go on, open it!" laughs the deep voice.
The noise of a package being opened is heard.
Then a crash and a scream are heard.
"What the heck is that?" asks the voice that isn't deep.
"It's my pet," the deep voice says, evilly. "And you must forget."
There is the sound of a roar and then the sound of books knocking over. Then the sound of shattering glass is heard.
...
To be written.
Characters
Edit
Fred Jones
Daphne Blake
Velma Dinkley
Shaggy Rogers
Scooby-Doo
Locations
Edit
Notes/trivia
Edit
.
Ad blocker interference detected!
Wikia is a free-to-use site that makes money from advertising. We have a modified experience for viewers using ad blockers

Wikia is not accessible if you've made further modifications. Remove the custom ad blocker rule(s) and the page will load as expected.