Mordecai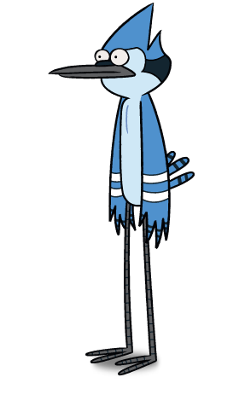 Character Info

Edit
| | |
| --- | --- |
| Gender | Male |
| Hair | Blue and black |
| Eyes | Black |
| Occupation | Groundskeeper |
| Affiliation | Rigby; Mystery Inc. |
| Family | |
| Played By | J.G. Quintel |
Mordecai is one of the main protagonists of Regular Show, along with his best friend Rigby.
Appearance
Edit
Mordecai is about a 6'4 tall, anthropomorphic Blue Jay. He sports a black beak, with teeth, a light blue chest, as well as black stripes on his tail feathers and fingers, as well as two white stripes on his wings, or arms. Mordecai's white feathers vary throughout the cartoon, at times appearing pure white, sometimes appearing tinged blue. In the pilot and some scenes from First Day, his forehead has more white feathers. In the episode "Don" when he was five or six, he used to have buck teeth and didn't have the black stripes on his fingertips or his tail feathers. The back of his head is black and the blue feathers on his head are styled up or grow in that fashion. He has long, dark gray striped legs with two toes.
Appearances
Edit
Ad blocker interference detected!
Wikia is a free-to-use site that makes money from advertising. We have a modified experience for viewers using ad blockers

Wikia is not accessible if you've made further modifications. Remove the custom ad blocker rule(s) and the page will load as expected.