Mr. B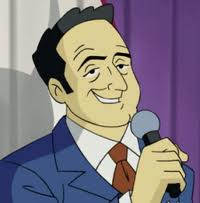 Character Info

Edit
| | |
| --- | --- |
| Gender | Male |
| Hair | Black |
| Eyes | Black |
| Occupation | Farm owner |
| Affiliation | Mr. B's farm |
| Family | Unknown |
| Played By | Jeff Bennet |

This article is about Mr. B in a fake series. For Mr. B in What's New, Scooby-Doo?, see Mr. B.
Mr. B is a farm owner, owner of the Secret Six and their mother, Crissie. and friend of the gang. His farm was haunted by the Horrible Hillbilly.
Physical appearance
Edit
Mr. B has black hair and wears a farmer's outfit.
Personality
Edit
He is a very nice guy and is good with the Secret Six.
Skills and abilities
Edit
He has an amazing ability to cook and make new recipes.
Scooby-Doo! Original Mysteries
Edit
Season one
Edit
The gang went to his farm to investigate the Horrible Hillbilly. He also had a secret recipe for ham going on in his farm. (Hillbillies And Ham)
Appearances
Edit
Ad blocker interference detected!
Wikia is a free-to-use site that makes money from advertising. We have a modified experience for viewers using ad blockers

Wikia is not accessible if you've made further modifications. Remove the custom ad blocker rule(s) and the page will load as expected.