Mumsy-Doo and Dada-Doo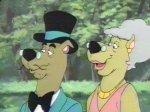 Character Info

Edit
Mumsy-Doo ​and Dada-Doo are Scooby-Doo parents.
Physical Appearance
Edit
Mumsy-Doo
Edit
Mumsy has light brown fur with grey hair in a bun on the top of her head. She also wears a pink dress, a golden necklass and circular glasses.
Dada is a Great Dane that looks exactly like Scooby, but wears a top hat, suit and small glasses and has a thin moustache.
Personality
Edit
They both seem to love their family very much, especially their mystery solver son, Scooby-Doo.
Appearances
Edit
A Pup Named Scooby-Doo - Curse of the Collar and The Were-Doo of Doo Manor
The New Scooby-Doo and Scrappy-Doo Show - Wedding Bell Boos!
The New Scooby-Doo Mysteries - A Night Louse at the White House
The 13 Ghosts of Scooby-Doo - It's a Wonderful Scoob and The Ghouliest Show on Earth
Ad blocker interference detected!
Wikia is a free-to-use site that makes money from advertising. We have a modified experience for viewers using ad blockers

Wikia is not accessible if you've made further modifications. Remove the custom ad blocker rule(s) and the page will load as expected.