No Mystery Here?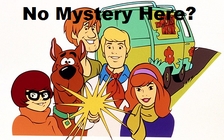 Episode Info

Edit

No Mystery Here? is the 7th episode of The Scooby-Doo! More Than Ghouls!.
The gang visits Movie Land, but a Devil Director haunts the sets.
The gang arrives at Movie Land. Inside the gang sees so many people. The newest film, My Pet Dragon was going to be directed by Newman Griffins. Soon the gang meets Newman Griffins he says that a devil wants to direct the film. Later the gang meets someone named Grey, she says that the Devil Director is going to ruin the movie.
The gang looks for clues. And they found one, a VIP pass. Shaggy and Scooby set a trap. Soon they get the Devil Director. It was Grey. She wanted to become the director.
Cast and Characters
Edit
Frank Welker as Scooby-Doo and Fred Jones
Matthew Lillard as Shaggy Rogers and Devil Director
Grey DeLisle as Daphne Blake
Mindy Cohn as Velma Dinkley
Kath Soucie as Grey
Pat Musick as Aggie
Alan Oppenheimer as Newman Griffins
Devil Director
Grey
Newman Griffins
Aggie
Grey as the Devil Director\Reason:To become the director.
Locations
Edit
Movie Land
Notes/trivia
Edit
Home media
Edit
Scooby-Doo! More Than Ghouls! The Complete Series
Ad blocker interference detected!
Wikia is a free-to-use site that makes money from advertising. We have a modified experience for viewers using ad blockers

Wikia is not accessible if you've made further modifications. Remove the custom ad blocker rule(s) and the page will load as expected.