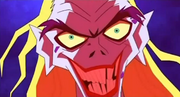 Ideas Of Mine

So recently the show Scooby Doo! Mystery Incorporated has inspired me to create another series of Scooby Doo when I am older. The series will be entitled Scooby Doo! Dark Days and will have five plotlines that eventually show themselves besides the usual cases, which there will be one every episode. The plotlines will follow Daphne's arachnid-like abilities of growths (don't ask you'll find out later), Shaggy becoming an amnesiac, Velma slowly turning against the gang, Fred's serious injury, and The Poet, who is a mysterious villain that leaves poems around the town for the gang to discover, which usually arefollowed by deadly traps.
For instance, in S1E01, Water, Water, Everywhere, The Poet leaves a note at an abandoned mansion in Crystal Cove (where most of the series will take place) that says:
Dear Mystery Inc.
You're On The Brink
Of Something Deadly
You'll Like This Freddy
Goodbye
Immediately afterwards the enormous mansion explodes, and the gang is almost killed by flaming debris. Also, Dark Days will neither be animation nor live action, but claymation, as in Coraline and/or ParaNorman.
As far as I know, the first two episodes wil be entitled Water, Water, Everywhere and Through The Looking Glass. Others that I have planned are Clowns Inside Me, The Daphne Web I, II, III, and IV, Fred Of The Dead, Fear The Host, and more.
Well, peace for now.

AFutureDirector (talk) 05:26, August 5, 2012 (UTC)AFutureDirectorP.S.HowIsThisASignatureIMeanComeOnICan'tEvenChangeFontsHaha
Ad blocker interference detected!
Wikia is a free-to-use site that makes money from advertising. We have a modified experience for viewers using ad blockers

Wikia is not accessible if you've made further modifications. Remove the custom ad blocker rule(s) and the page will load as expected.