Orks And Forks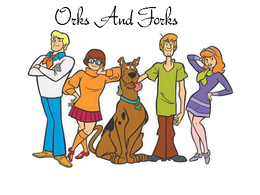 Episode Info

Edit
Episode
Orks And Forks
Series
{{{series}}}
Written by
Decca03
Air Date
January 1st 2012

Chronlogy

Previous Episode
N\A
Next Episode
It's The Night Off For The Knight
Orks And Forks is The 1st Episode Of The First Season, In Let's Go Scooby Doo.
The Gang Visits Ork Land in South America, When They Get Attacked By a Ork.
Later The Gang Finds Their First Clue, a Piece of William's Hair.
Later They Find Their Second Clue, a Blue Top Hat.
Later They Find Their Last Clue, a Yellow Shoelace. Now They Know Who Did it, When The Shadow Ork Gets Caught, They Pull of The Mask, To Reveal William Hark!
Cast and Characters
Edit
Actor
Character
Frank Welker

Fred Jones

Scooby-Doo

Matthew Lillard
Shaggy Rogers
Grey Delisle

Daphne Blake

Mindy Cohn
Velma Dinkley
(Voice Actor)
Mr. Dickens
(Voice Actor)
William Hark
(Voice Actor)
Jill
(Voice Actor)
Shadow Ork
Shadow Ork
Mr. Dickens
William Hark
Jill
William Hark
Because He Wanted to Turn Ork Land Into a Bank
Locations
Edit
Ork Land
Notes/trivia
Edit
Animation mistakes
Edit
The Shadow Orks Skin Is Green When The First Time He Appears, But Later His Skin is Blue.
"Leave This Place at Once or Face My Wrath"
Ad blocker interference detected!
Wikia is a free-to-use site that makes money from advertising. We have a modified experience for viewers using ad blockers

Wikia is not accessible if you've made further modifications. Remove the custom ad blocker rule(s) and the page will load as expected.