Rigby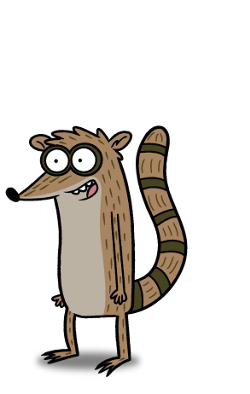 Character Info

Edit
| | |
| --- | --- |
| Gender | Male |
| Hair | Brown |
| Eyes | Black |
| Occupation | Groundskeeper |
| Affiliation | Mordecai |
| Family | |
| Played By | William Salyers |
Rigby is one of the main protagonists of Regular Show. Rigby is a 23 year-old raccoon. He made his debut in the original Pilot episode working as a groundskeeper at the park.
Appearance
Edit
Rigby is a brown raccoon with short, and spiky hair. He has darker brown circles around his eyes, like a normal raccoon usually would. He also has a long tail with six dark brown stripes on it. In the episode "Don", it was shown that when Rigby was six years old, he had a single front tooth. He is 3'1.7", making him 1/2 Mordecai's height (6'3") and around 27 pounds. Rigby once played "punchies" with Skips, which resulted in a damaged butt cheek that required surgery. The result was that it looked like Rigby only had one butt cheek, instead of two. And as a result his friends call him "the one cheek wonder".
Appearances
Edit
Ad blocker interference detected!
Wikia is a free-to-use site that makes money from advertising. We have a modified experience for viewers using ad blockers

Wikia is not accessible if you've made further modifications. Remove the custom ad blocker rule(s) and the page will load as expected.