Rule of the Goblin King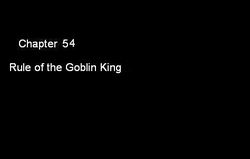 Episode Info

Edit
Episode
Rule of the Goblin King
Series
Scooby-Doo! Mystery Incorporated
Written by
Thehungergamesloverd
Air Date
March 28, 2013

Chronlogy

Previous Episode
The Library of the Dead
Next Episode
"Garden of the Sprite"

Rule of the Goblin King is the fourth episode of Season 3 of Scooby-Doo! Mystery Incorporated.
Goblin Ants are attacking the Barnstow Military Academy and they come along with a Goblin King. Sheriff Stone calls the gang for help
Cast and characters
Edit
| Suspect | Motive/Reason |
| --- | --- |
| Drill Sergeant | He didn't want them snooping around |
| Culprit | Motive/Reason |
| --- | --- |
| Larry Coxes as the Goblin King | To scare people away from the Military Academy so it would close and he wouldn't have to stay there. |
Locations
Edit
Notes/trivia
Edit
Ad blocker interference detected!
Wikia is a free-to-use site that makes money from advertising. We have a modified experience for viewers using ad blockers

Wikia is not accessible if you've made further modifications. Remove the custom ad blocker rule(s) and the page will load as expected.