Salty Caroline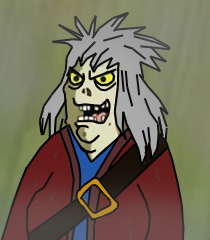 Character Info
| | |
| --- | --- |
| Identity | Susie |
| Motive | She was angry at the tourists ruining the local wildlife and wanted them to leave |
| Appearances | Salty Caroline, Season 1, Episode 5 |
| Type | Zombie Pirate |
| Location | Mistview Bay |

Salty Caroline was the disguise of Susie, the hotel receptionist. She was angry at the tourists ruining the local wildlife and wanted them to leave.
Physical Appearance
Salty Caroline is a zombie pirate with rubbery green skin and long, shaggy, grey hair. She wears a red pirate costume.
Ad blocker interference detected!
Wikia is a free-to-use site that makes money from advertising. We have a modified experience for viewers using ad blockers

Wikia is not accessible if you've made further modifications. Remove the custom ad blocker rule(s) and the page will load as expected.