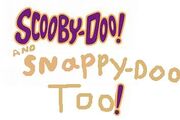 Scooby-Doo! And Snappy-Doo Too! is Scooby-Doo tv sieres that airs on Cartoon Network.
| Running years | 2013-preasant |
| --- | --- |
| Previos seires | ? |
| Created by | Magic-is-cute |
In this series Scooby-Doo and the rest of the gang along with thier new member Snappy-Doo, a female maltise puppy adopted by Scooby's sister, Ruby-Doo, travel the world unmasking monsters, although some episode feature Shaggy, Scooby, and Snappy at home.
Characters in this seires
Edit
Scooby-Doo
Velma Dinkley
Ruby-Doo: in this series Ruby has moved to a city called Waggia where she adopted Snappy.
Snappy-Doo: Snappy is an orphan female maltise puppy that is adopted by Ruby-Doo.
Fuzz: Fuzz is a female wirehaired fox terrier and the mayer of Waggia.
Scrappy-Doo: Scrappy does not formerly appear in this series, but is mentioned and posibly will be in an episode.
Episode List
Edit
Coming Soon.
Ad blocker interference detected!
Wikia is a free-to-use site that makes money from advertising. We have a modified experience for viewers using ad blockers

Wikia is not accessible if you've made further modifications. Remove the custom ad blocker rule(s) and the page will load as expected.