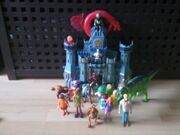 Series name: Scooby-Doo! Unmasked - Number of Seasons:TBA - premier date: October 2014 - Number of Episodes: 20...(Plot: Scooby and the gang return to coolsiville to solve mysteries but danger has been written for them which is X-lords evil curse, later to be known in season 2. Season 2 explores what x-lord is up to and explains a bit more about him. Mystery incorporated see some familiar faces for example: ironman, the actor jack Ryder and a few more.)
Ad blocker interference detected!
Wikia is a free-to-use site that makes money from advertising. We have a modified experience for viewers using ad blockers

Wikia is not accessible if you've made further modifications. Remove the custom ad blocker rule(s) and the page will load as expected.