Scooby-Doo's Jumbo Pack is another incarnation of the long-running Hanna-Barbera Saturday morning cartoon Scooby-Doo. It was created by Decca03 .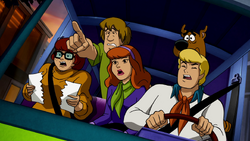 The gang is traveling around the world to discover the ghosts and decides to solve a mystery. While splitting up, Scooby and Shaggy end up falling to the ghost. Meanwhile, Fred, Velma and Daphne find the clues which will prove it is not a real ghost.
Recurring characters
Edit
Episode Guide
Edit
| # | Title | Premise | Word Count | Writer |
| --- | --- | --- | --- | --- |
| 1 | The Dog Watch | The gang visits Daphne's old friend. But, Scooby discovers paw-prints leading out of the dog house that were made by an invisible demon dog! | 552 | Decca03 |
| 2 | Food Fight | Scooby and Shaggy join an eating contest but a demon devil is haunting the contest! | 481 | Kyle03 |
| 3 | Tanks for Nothing | The gang visits the new Coolsville Balloon shop. There balloons of all shapes and sizes are sold! But, a life-sized army tank comes to life! | 606 | Decca03 |
| 4 | The Falcon Rises | The gang visit Blue Falcon and Dynomutt once again, but Blue Falcon is having trouble with a fake version of his arch-enemy 'Darthon the Destroyer'. | 640 | Kyle03 |
| 5 | Garbage Upload | The gang visit the dump to offload some bits and pieces but they find out that a Garbage Monster is haunting the dump. | 479 | Kyle03 |
| 6 | Hyde and Seek | The gang discovers Mr. Hyde is hiding in Coolsville! So it's a race against time to find this vicious villain! | 740 | Decca03 |
| 7 | Why is Scooby-Dum so Dumb? | The gang visit Scooby-Dum and solve a mystery with him about the Glass Ghost. | 500 | Kyle03 |
Home media
Edit
Notes/trivia
Edit
Kyle03 and Decca03 announced that we're having a production about the same Scooby-Doo series called, Scooby-Doo's Jumbo Pack!
Ad blocker interference detected!
Wikia is a free-to-use site that makes money from advertising. We have a modified experience for viewers using ad blockers

Wikia is not accessible if you've made further modifications. Remove the custom ad blocker rule(s) and the page will load as expected.