This is about the Solve That Mystery Scooby Doo! incarnation of Scooby-Doo.
Scooby-Doo
(Solve That Mystery Scooby Doo!)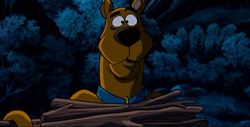 Character Info

Edit
Scoobert-Doo or most commonly known as Scooby-Doo is a male Great-Dane and a member of Mystery Incorporated. His owner and best friend is Shaggy Rogers who he first met when running away from two ghosts. He is voiced by Frank Welker, who also voiced Fred Jones and the titular feline villain Garfield.
Early life
Edit
Scooby was born on Knittingham Farm where he was owned by Mrs. Knittingham. He had two parents called Mumsy-Doo and Dada-Doo. He was also one of the puppies of the litter to go into pet fairs. He was one of the most unpopular dogs and once was being taken back to the kennel but flew out the back of the car and was lost. After searching for hours it began to get dark and Scooby found two ghosts but ran away into Shaggy's house where he became friends with him. (Scooby-Doo! The Mystery Begins) Later, Scooby and Shaggy joined Mystery Inc. and solved mysteries with the gang. (A Pup Named Scooby-Doo!)
Physical appearance
Edit
Scooby-Doo is a brown male Great-Dane with black spots. Scooby also has opposite thumbs and four toes on each foot. Scooby also has 6 freckles on his face near his nose and two whiskers coming out of his chin. Scooby always wears his blue, diamond-shaped collar with SD inside it. The SD on his collar stands for Scooby-Doo. In episodes with weather changes, Scooby-Doo will dress appropriately, wearing rain boots, and a coat if raining, or a toque and parka if snowing.
Personality
Edit
Scooby-Doo, like his owner Shaggy, loves to eat. Scooby can also be easily scared like Shaggy. Scooby-Doo, when given Scooby snacks, is also heroic, and brave. Scooby is also very loyal.
Appearances
Edit
Ad blocker interference detected!
Wikia is a free-to-use site that makes money from advertising. We have a modified experience for viewers using ad blockers

Wikia is not accessible if you've made further modifications. Remove the custom ad blocker rule(s) and the page will load as expected.