Scooby-Doo and Scrappy-Doo! is another incarnation of the long-running Hanna-Barbera Saturday morning cartoon Scooby-Doo. It was created by Decca03 .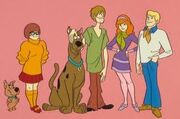 The gang, along with Scrappy, is traveling around the world to discover the ghosts and decides to solve the mystery. While splitting up, Scooby, Scrappy and Shaggy end up falling to the ghost. However, unlike his uncle, Scrappy wants to fight the ghost, forcing Scooby and Shaggy to save him. Meanwhile, Fred, Velma and Daphne find the clues which will prove it is not a real ghost.
Recurring characters
Edit
Episode Guide
Edit
| # | Title | Premise | Word Count |
| --- | --- | --- | --- |
| 1 | The Haunted Train | All aboard the Scooby Express! The gang is taking a train to New York. But it's haunted by a metal man! Scrappy goes after the metal man, pulling Scooby and Shaggy with him. At the same time, Fred, Daphne, and Velma search for clues. | 671 |
| 2 | Talented Tornado | Talented at stealing! A masked villain known as the Tornado is stealing things like mad! He's stealing books, diamonds, money, and much more! Scrappy leads Scooby and Shaggy into all the action and danger while Fred, Daphne, and Velma search for clues. | 585 |
| 3 | Shake Hands | Shaggy's in two places at the same time! While the gang and Scrappy are in the Malt Shop, the police come and arrest Shaggy for the theft of the Golden Malt Cup. The gang must prove Shaggy is innocent with the help of a cloned Shaggy. | 576 |
Home media
Edit
Notes/trivia
Edit
Decca03 announced that Scooby Doo and Scrappy Doo has the new series of the same name which is entertained by Hanna-Barbera Productions and Warner Bros. Entertainment Inc.
Ad blocker interference detected!
Wikia is a free-to-use site that makes money from advertising. We have a modified experience for viewers using ad blockers

Wikia is not accessible if you've made further modifications. Remove the custom ad blocker rule(s) and the page will load as expected.