Scooby-Doo on Black Island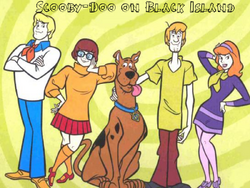 Episode Info

Edit

Scooby-Doo on Black Island is the third episode of Scooby-Doo! Spooky Saturday.
The gang goes to Black Island to have some fun in the sun! But their vacation is interrupted when they get lost in a jungle! And the buff tour guide is their best hope of escaping, but it will be a few more weeks until the next tour! So the gang begins to explore, but what path will they pick? They happen to pick the cursed one out of bad luck and end up facing the terrors that inhabit the jungle!
Writer's Note
Edit
I'm Decca03, the writer, thanks for reading and don't forget to comment!
Cast and characters
Edit
Locations
Edit
Notes/trivia
Edit
Home Media
Edit
Ad blocker interference detected!
Wikia is a free-to-use site that makes money from advertising. We have a modified experience for viewers using ad blockers

Wikia is not accessible if you've made further modifications. Remove the custom ad blocker rule(s) and the page will load as expected.