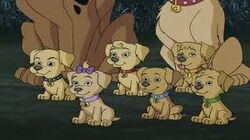 The Secret Six are six golden retriever puppies owned by Mr. B; their mother is Crissie.
None of this dog family can speak, they just make dog sounds like any normal dog would.
From left to right, back row through front row:
Appearances
Edit
What's New, Scooby-Doo?- Homeward Hound, Farmed & Dangerous and Gold Paw
Ad blocker interference detected!
Wikia is a free-to-use site that makes money from advertising. We have a modified experience for viewers using ad blockers

Wikia is not accessible if you've made further modifications. Remove the custom ad blocker rule(s) and the page will load as expected.