Small Scare in the Big Top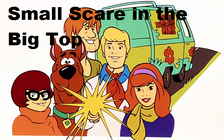 Episode Info

Edit

Small Scare in the Big Top is the 6th episode of The Scooby-Doo! More Than Ghouls!.
The gang goes to Clown Big Top Fun, when a Phantom Clown comes in and scares everyone!
The gang and Shaggy's uncle Brock are watching the show. Louis walks on and The Amazing Helga flies down. After the show a Phantom Clown appears on stage. He warns everyone to leave. Then the lights blackout. When they turn back on the Phantom Clown is gone. They walk outside the big top and uncle Brock was crying. Brock Rogers says he might have to close the big top. The gang starts looking for clues and they found one, a box of paper clips. Minutes later the Phantom Clown kidnaps Daphne.
The gang splits up. Fred & Velma go left, Shaggy & Scooby go Right. Fred and Velma are looking for clues but they get kidnapped by the Phantom Clown also. Shaggy and Scooby see the Phantom Clown holding a newspaper. Soon the Phantom Clown falls asleep. While he is sleeping Scooby grabs the newspaper. Later Shaggy and Scooby find Fred, Daphne, and Velma. Fred sets a trap. When the Phantom Clown gets stuck in the trap they pull off the mask.It was Louis. He wanted to build a shopping center over Clown Big Top Fun.
Cast and Characters
Edit
Frank Welker as Scooby-Doo,Fred Jones, and Louis
Matthew Lillard as Shaggy Rogers and Brock Rogers
Grey DeLisle as Daphne Blake
Mindy Cohn as Velma Dinkley
Barry Richards as Phantom Clown
Tara Strong as The Amazing Helga
Phantom Clown
Louis as the Phantom Clown\Reason:To build a shopping center over Clown Big Top Fun.
Locations
Edit
Clown Big Top Fun
Notes/trivia
Edit
Home media
Edit
Scooby-Doo! More Than Ghouls! The Complete Series
Ad blocker interference detected!
Wikia is a free-to-use site that makes money from advertising. We have a modified experience for viewers using ad blockers

Wikia is not accessible if you've made further modifications. Remove the custom ad blocker rule(s) and the page will load as expected.