Solve That Mystery Scooby-Doo!

Description

Premiere Airdate
10th April 2013
Premiere Episode
"Ghost School"
Original Network
Cartoon Network
Running Time
22 minutes
Seasons
2
Episodes
15
Previous Series
 ???
Next Series
Scooby-Doo Meets the Stars!
Solve That Mystery Scooby Doo! is the Twelfth incarnation of Scooby Doo. The drawings resemble the original designs but with new brighter colours.
Premise
The gang return to school after a summer of action packed mysteries, but Coolsville isn't as boring as they think when they find scary monsters and ghosts haunting the village.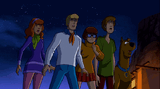 Cast
Episodes
DVD Releases
Trivia
The Theme song is the same as What's New Scooby Doo! except it has got a new singer and is played with base guitar.
Ad blocker interference detected!
Wikia is a free-to-use site that makes money from advertising. We have a modified experience for viewers using ad blockers

Wikia is not accessible if you've made further modifications. Remove the custom ad blocker rule(s) and the page will load as expected.