Street Frighter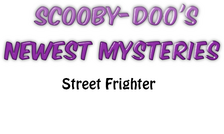 Episode Info

Edit

Street Frighter is the second episode of the second season of Scooby-Doo's Newest Mysteries.
The gang meets Ryu and Ken.
The gang keeps getting saved from a dryad by Ryu and Ken.
At night, Scooby and the gang are in a forest, camping. Suddenly, a dryad appears. It almost destroys their camp! Luckily, Ken from Street Fighter appears. He drives the dryad off. Ken tells the gang that he and Ryu are training in the forest. Ken leads the gang to his and Ryu's camp. At the camp, the gang meets Ryu. Ken goes off to find firewood.
Shaggy asks Ryu to teach him how to punch. Ryu is shocked that Shaggy can't punch. After Shaggy learns how to punch, Ryu promises going to make Shaggy buff. Just as he says this, the Dryad bursts in. Ryu fights him off before he can attack anybody. Soon, Ken comes back. He didn't find firewood. Ryu goes off to find firewood. The dryad appears. He is going to wreck the camp.
Ken fights him off before the dryad can do any damage. Ryu comes back. He didn't find firewood. The gang goes off to find firewood. The sun rises. Fred says they will probably only find firewood if they split up.
Scooby and Shaggy are looking for firewood. Ken appears out of the forest; but he isn't Ken! It is a zombie Ken. Ryu appears. He explains Ken turns into a zombie at morning. Ryu sprays red mist on Ken. He turns human. Ryu walks off with Ken.
Meanwhile, Fred, Daphne, and Velma are searching for firewood. The dryad appears. Ken jumps off of a tree. He attacks the dryad. The dryad runs off. Ken gives the gang some firewood. Fred tells Ken that he truly is awesome. Ken runs off. Velma realizes something. She says they should get back to camp right away.
When they arrive, Fred, Daphne, and Velma find Scooby, Shaggy, Ken, and Ryu. Velma says Ken and Ryu pretended to be the monsters and save the gang. She says not only are the monsters not actually monsters, Ken and Ryu aren't really Ken and Ryu.
Ken and Ryu are two teenage boys. They wanted people to think they were awesome. The episode ends with the gang camping.
"Rooby-Rooby-Roo!" cheers Scooby.
Cast and characters
Edit
| Suspect | Motive/reason |
| --- | --- |
| None | None |
| Culprits | Motive/reason |
| --- | --- |
| Teenage boys | To seem awesome. |
Locations
Edit
Notes/trivia
Edit
This is the second and last episode with Street Fighter characters in it.
Animation mistakes and/or technical glitches
Edit
Inconsistencies/continuity errors and/or goofs/oddities
Edit
Home media
Edit
Ad blocker interference detected!
Wikia is a free-to-use site that makes money from advertising. We have a modified experience for viewers using ad blockers

Wikia is not accessible if you've made further modifications. Remove the custom ad blocker rule(s) and the page will load as expected.