The First Fright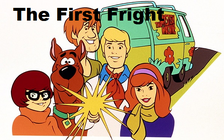 Episode Info

Edit

The First Fright is the 2nd episode of The Scooby-Doo! More Than Ghouls!.
The gang goes to an airport to find out who the Vortex Pilot really is.
The gang reads in a newspaper that a ghost haunts the airport. The gang gets to the airport and they walk in. Inside they see Lilly, she wants to solve the case first. Later the gang sees the Vortex Pilot and he warns them to stay away. Soon the gang splits up. Shaggy and Scooby meet the Pilot she is going to takeoff any minute. Fred, Velma, and Daphne meet 2 men fighting over a action figure. Fred asks them if its an action figure. Action figure! one of the men said "It's a 80 year old action figure!". One of the men said he was Orlando, the other man said he was Bill. Soon the Vortex Pilot came out and warned them again. He had dropped something out of his plane, it was a pilot cap.
~TO BE CONTINUED~
Cast and Characters
Edit
Frank Welker as Scooby-Doo and Fred Jones
Matthew Lillard as Shaggy Rogers
Grey DeLisle as Daphne Blake
Mindy Cohn as Velma Dinkley
Kathy Kinney as Lilly
Brian Unger as Bill
Tom Kenny as Orlando
Dee Bradley Baker as Vortex Pilot
Tara Strong as Pilot
James Arnold Taylor as Background Voices
Vortex Pilot
Unknown, Known in What a Flight for a Fright
Locations
Edit
Airport
Notes/Trivia
Edit
Home media
Edit
Scooby-Doo! More Than Ghouls! The Complete Series
"Lilly....You Again?"
Velma Dinkley
Ad blocker interference detected!
Wikia is a free-to-use site that makes money from advertising. We have a modified experience for viewers using ad blockers

Wikia is not accessible if you've made further modifications. Remove the custom ad blocker rule(s) and the page will load as expected.