The Midknight at Midnight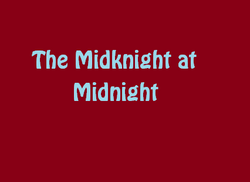 Episode Info

Edit

The Midknight at Midnight is the fifth episode of the first season in Scooby-Doo! Spooky Mysteries. It was also the first five minute short.
The Midknight is after Scooby and Shaggy.
Scooby and Shaggy are eating a sandwich at midnight. Suddenly, a ghostly knight appears, and says he is the Midknight. He rides away. Scooby and Shaggy freak out and run away. They bump into the knight, who chases them away. The episode ends with Scooby and Shaggy running. "Rooby-Rooby-Roo!" moans Scooby.
Cast and characters
Edit
| Suspect | Motive/reason |
| --- | --- |
| None | None |
| Culprit | Motive/reason |
| --- | --- |
| Unknown | Unknown |
Locations
Edit
Notes/trivia
Edit
This was a five minute short.
Home media
Edit
Ad blocker interference detected!
Wikia is a free-to-use site that makes money from advertising. We have a modified experience for viewers using ad blockers

Wikia is not accessible if you've made further modifications. Remove the custom ad blocker rule(s) and the page will load as expected.