The Real Deal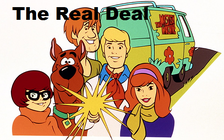 Episode Info

Edit
The Real Deal is the series premiere of The Scooby-Doo! More Than Ghouls!.
The gang visits Real Deals, when a ferocious frosted beast comes in and steals all the rare items.
The gang gets to Real Deals. Inside there is all kinds of deals,deals like a 150 year old mask for 10 bucks. A few minutes later they are greeted by a man named Dick,the owner of Real Deals. Dick tells the gang about The Frosted Beast. Later the gang meets someone named Jeff. Jeff wants to get good deals. When the gang starts looking for clues they bump into Lilly, she says she will solve the mystery first.
The gang starts looking for clues. They find an ID. The gang starts looking for more clues when they bump into the Frosted Beast he says he will get the items. The chase scene starts. When the chase scene is over the monster runs off dropping something. It was a red jacket. Velma says "I solved this mystery!". Soon Fred sets a trap. When the monster is trapped they pull of the mask. It was Jeff. He wanted to steal all the rare items.
Cast and Characters
Edit
Frank Welker as Scooby-Doo and Fred Jones
Matthew Lillard as Shaggy Rogers
Grey DeLisle as Daphne Blake
Mindy Cohn as Velma Dinkley
Kathy Kinney as Lilly
Peter Scolar as Dick
Tom Kenny as Jeff
Fred Tatasciore as Frosted Beast
The Frosted Beast
Jeff as the The Frosted Beast\Reason:To steal all the rare items.
Locations
Edit
Real Deals
Notes/trivia
Edit
Home media
Edit
Scooby-Doo! More Than Ghouls! The Complete Series
Ad blocker interference detected!
Wikia is a free-to-use site that makes money from advertising. We have a modified experience for viewers using ad blockers

Wikia is not accessible if you've made further modifications. Remove the custom ad blocker rule(s) and the page will load as expected.