The Scooby, Scrappy and Yabba-Doo Show

Description

Premiere Airdate
March 10th, 2014
Premiere Episode
Original Network
Cartoon Network
Running Time
Twenty-two minutes per episode
Seasons
2
Episodes
52
Previous Series
TBA
Next Series
The Scooby-Doo/Looney Tunes Show
The Scooby, Scrappy and Yabba-Doo Show is a television show created by Warner Bros. for Teletoon and Cartoon Network.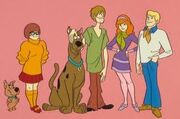 The gang, along with Scooby-Dum, Scrappy, Duke and Annie, Dusty, Yabba & Flim-Flam is traveling around the world to discover the ghosts and decides to solve the mystery. While splitting up, Scooby, Scooby-Dum, Scrappy, Shaggy, Dusty Yabba and Flim-Flam end up falling to the ghost. However, unlike his uncle, Scrappy wants to fight the ghost, forcing Scooby and Shaggy to save them. Meanwhile, Fred, Velma and Daphne find the clues which will prove it is not a real ghost.
See also Mystery Inc.

Recurring characters
Edit
Episode Guide
Edit
For a complete guide see The Scooby, Scrappy and Yabba-Doo Show/Episode Guide

Season overview
Theme Song
Edit
See: The Scooby, Scrappy and Yabba Doo Show/Theme Song
Notes/trivia
Edit
This series features Scrappy, Scooby-Dum, Deputy Dusty, Yabba-Doo, Flim-Flam, Duke and Annie.
Ad blocker interference detected!
Wikia is a free-to-use site that makes money from advertising. We have a modified experience for viewers using ad blockers

Wikia is not accessible if you've made further modifications. Remove the custom ad blocker rule(s) and the page will load as expected.