Velma Dinkley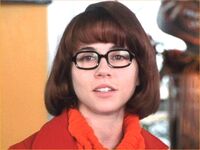 Character Info

Edit
| | |
| --- | --- |
| Gender | Female |
| Hair | Auburn |
| Eyes | Black |
| Occupation | Amateur sleuth; bookstore owner |
| Affiliation | Mystery Inc. |
| Family | Mr. Dinkley (father); Mrs. Dinkley (mother); Madelyn Dinkley (sister) |
| Played By | {{{played by}}} |
Velma Dinkley is the bespectacled resident genius of Mystery Inc., often being the one to decipher the clues and solve the crimes.
Physical Appearance
Edit
Velma has chin-length auburn hair (her hair is shorter than Daphne Blake's) and black eyes. She usually has freckles, and initially was depicted as more heavyset compared to the thinner frame on Daphne. While somewhat obscured by her fashion choices, Velma can be seen to have a slightly wider waist and her facial shape is more circular/square compared to the ovular shape Daphne has as an adult.
She is always seen wearing thick-framed, square glasses (a running theme is that Velma often loses them, after which she can be seen crawling on the floor looking for them saying, "My glasses. I can't find my glasses."). She normally wears an orange sweater, with a red skirt, knee length orange socks and black shoes. Her clothes didn't change much from show to show being almost the same.
Personality
Edit
Velma can at times be competitive with other people who are very intelligent like she is.
Ad blocker interference detected!
Wikia is a free-to-use site that makes money from advertising. We have a modified experience for viewers using ad blockers

Wikia is not accessible if you've made further modifications. Remove the custom ad blocker rule(s) and the page will load as expected.