This is about the Solve That Mystery Scooby Doo! incarnation of Velma Dinkley.
Velma Dinkley
(Solve That Mystery Scooby Doo!)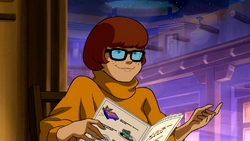 Character Info

Edit
| | |
| --- | --- |
| Gender | Female |
| Hair | Auburn |
| Eyes | Brown |
| Occupation | amateur sleuth |
| Affiliation | Mystery Inc. |
| Family | *Mrs. Dinkley |
| Played By | Mindy Cohn |
Velma V Dinkley or just Velma Dinkley is the smart member of Mystery Incorporated.
Early life
Edit
Velma was born into a smart German American family and grew up with her mother, father and younger sister. She was once put into detention with Fred Jones, Daphne Blake and Shaggy Rogers and had become best friends since. (Scooby-Doo! The Mystery Begins) Later she and her friends formed a gang called Mystery Inc. (A Pup Named Scooby-Doo!) In Scooby-Doo and the Changeling Queen, she replaces Daphne for temporarily after Daphne was briefly kidnapped by Queen Chrysalis.
Physical appearance
Edit
Velma has chin-length auburn hair, decorated by small red bows. Velma is always wearing thick-framed, square glasses covering her brown eyes and normally wears an orange sweater, with a red skirt, knee-length orange socks and red shoes.
Personlity
Edit
Velma is very kind and smart German American teenage girl. Even though she has a good personality, she is not popular with boys unlike Daphne.
Appearances
Edit
Ad blocker interference detected!
Wikia is a free-to-use site that makes money from advertising. We have a modified experience for viewers using ad blockers

Wikia is not accessible if you've made further modifications. Remove the custom ad blocker rule(s) and the page will load as expected.