What the Wolfman!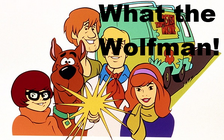 Episode Info

Edit

What the Wolfman! is the 10th episode of Scooby-Doo! More Than Ghouls!.
The gang goes to see a movie called "What the Wolfman!". But a half vampire half wolfman shows up.
The movie is about to start. Right before it starts a Vampire Wolfman rises out of the smoke. He says leave this place at once. The gang starts looking for clues, when the bump into 3 people. One was Harry, another was Dave Soup, and the other one was Willow Cantui. Soon the gang finds a clue. It was a cape.
The Vampire Wolfman soon finds the gang and chases them. After the chase scene the gang goes up stairs. The find a clue it was glasses.
~To Be Continued~
Cast and Characters
Edit
Frank Welker as Scooby-Doo and Fred Jones
Matthew Lillard as Shaggy Rogers
Grey DeLisle as Daphne Blake
Mindy Cohn as Velma Dinkley
Vampire Wolfman
Harry Dave Soup Willow Cantui
Unknown
Locations
Edit
Notes/trivia
Edit
Home media
Edit
Scooby-Doo! More Than Ghouls! The Complete Series
Ad blocker interference detected!
Wikia is a free-to-use site that makes money from advertising. We have a modified experience for viewers using ad blockers

Wikia is not accessible if you've made further modifications. Remove the custom ad blocker rule(s) and the page will load as expected.